Shopping Cart
Your Cart is Empty
There was an error with PayPal
Click here to try again
Thank you for your business!
You should be receiving an order confirmation from Paypal shortly.
Exit Shopping Cart
Secret Cove Sailing/Boat Tours of the Sunshine Coast of BC is CLOSED Permanently
Sailing boat tours of the Sunshine Coast BC
| | |
| --- | --- |
| Posted on October 6, 2016 at 4:45 PM | |
I may be guilty of over using a singular word. That word is stunning. Well I have been stunned quite a lot this summer in  the best possible way! In a period of one month, we visited both Desolation Sound and Princess Louisa Inlet, Chatterbox Falls, which both have been named the most beautiful anchorages in the world. 
Desolation Sound: Our guests flew into Powell River via YVR then took  a $10 taxi ride to meet us at the Westview Marina. The crew had enjoyed a wonderful sail with the wind straight behind us all the way from Secret Cove but the full enclosure was on while we travelled in heavy rain. The moment our guests stepped on the dock, like magic, the rain stopped. We dined at our favourite waterfront restaurant. The next morning at 10 we were off ,and making our  our way to the Prideaux Haven, Desolation Sound!
I am always just a tad concerned that our guest will not find the scenery as lovely as we do, that maybe we have built the expectations too high.  I knew that was not the case, while I was preparing lunch, our guests yelled down into the galley, "Hurry come see." "We are in Desolation Sound!"  We anchored to the north east of Prideaux Haven, our bow pointed to the view of the mountains. We were stunned!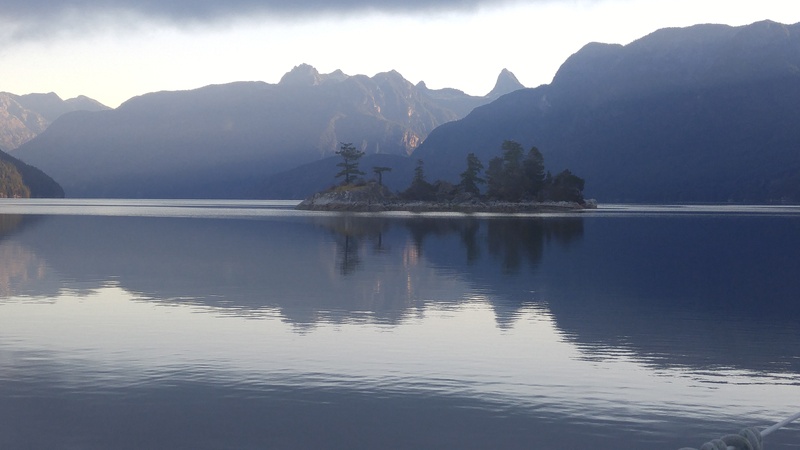 We spent 2 nights at this lovely spot before venturing on to Teakerne Arm and Tenedos Bay. Our guests were thrilled with their "bucket List" trip to, Desolation Sound, the most beautiful anchorage in the world. We hiked to and swam in Unwin Lake. We kayaked Melanie Cove,Laura Cove and Prideaux Haven, often stopping to be stunned by the beauty all around us.
My next stunning expererience was venturing wth a guest to Princess Louisa Inlet. It is a long motor sail with little wind on this journey, but the scenery is specatacular all along the way. While tied at the dock, with only one other boat on a warm pristine fall day, I took my kayak out for a paddle intending to explore McDonald anchorage.  I found myself stunned again. There is something sacred about this place. I paddled for a while but then, stunned by what was all around me,  I sat silently alone in my kayak,  on still water just looking up! As beautiful as this photo is, it is impossible to  capture this place. The cathedral like setting seems to urge one, not to speak but only whisper, in respet to the architect of this magnificent location. Could this be the most beautiful anchorage in the world?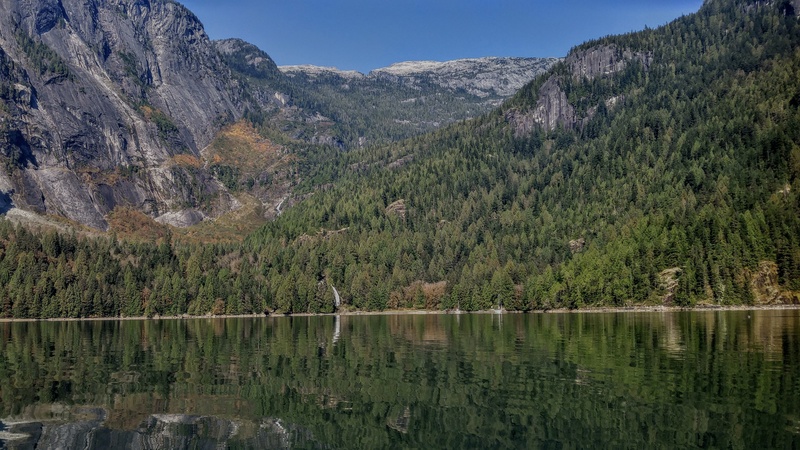 So, I am guilty as charged. I use the word 'stunning" excessively, but it is hard not to when you sail with us on the beautiful Sunshine Coast of BC!
Categories: None
/